Sweat365 » A Whopper of a Problem
We have a Whopper of a Problem… and this misguided marketing campaign is a perfect example of what's wrong with the American food culture. With the reporter espousing the virtues of "fast, big portion foods, at low prices" is it really any wonder why so many of us are gaining weight at such an alarming rate?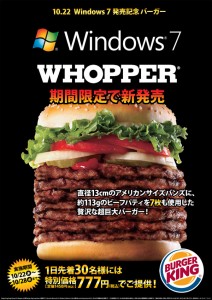 Should anyone eat this product? Should any company be willing to associate their brand with this product? Consider the facts: 791 grams or 1.7 lbs of beef, 2120 calories. This is more calories than the FDA and CDC recommend for an entire day; and that doesn't include the large fries and large soda that would be consumed in the same meal.
According to recent news from the CDC, now more than 26% of Americans are obese, in 32 states more than 25% of the population is obese, and in 6 states more than 30% of the adult population is overweight. There is only one state in the US where less than 20% of the population is obese.
"Obesity is a major risk factor for many chronic diseases such as heart disease and diabetes. As obesity increases among all age groups, we are seeing chronic diseases in much younger adults compared to a few decades ago," said Dr. William Dietz, director, CDC's Division of Nutrition, Physical Activity and Obesity. "For example, we now see young adults who suffer from heart disease risk factors and other conditions such as type 2 diabetes that were unheard of in the past."

I understand that Microsoft is trying to create buzz, to be a little edgy. But how can any corporation support this kind of high risk behavior? Why not partner with Patron Tequila and offer the Windows 7 Shot Challenge?
Filed under: Bad Ideas, Fast Food Culture, Food, Obesity, diet |
Digg! this story. | Leave a Comment